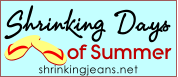 Today is the first Weigh In of the Shrinking Days of Summer.
I worked really hard this week. Drank my water, ate 2 and a half heads of lettuce over the course of the week for lunch, and stayed away from evening snacking (that was a hard one!) Last night Hubs and I went out for dinner and I ordered off of the "Healthy Choices" menu and only ate half of my serving. Another night we took the kids for ice cream and I ate half of my small sundae.
Oh yeah. I ran a bit too.
It paid off:
Last Week's Weight: 161
This Week's Weight: 158.8
Loss: 2.2
Percent lost: 1.37%
I am not going to celebrate yet. I have yet to maintain any sort of loss for more than a week or two. I won't feel like I have broken my plateau until I hit 155, but I will happily take this loss and run with it!